Gift Baskets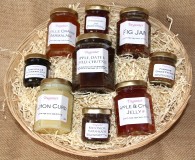 A selection of different size and styles of gift baskets are available from Tregunter which make an ideal present for a special occasion or a nice way to say thank you. These are most commonly made to order with a range of jars of your choosing, however you are also able to select from pre-made baskets. The baskets come in two main shapes: round and oval, and can be made for as little as £5.50 or as much as £20 depending on the style of basket and types of preserves included. The main options you can choose from are:
Create your own
A mixture of preserves from across the full Tregunter range including jams, jellies, chutneys, marmalades, curds
A selection of jams
A selection of chutneys
A selection of marmalades
A selection of jellies
A selection of curds
A selection of indulgent preserves (those that contain alcohol or are more expensive to buy individually)
A selection that go well with cheeses
A selection of preserves that contain chilli of varying heats (small round and small oval baskets only)
A selection of preserves that contain ginger (small round and small oval baskets only)
The baskets can be collected direct from Tregunter, at any market event, or can be posted via courier. When posting is requested, each basket usually costs £8.75 for postal charges as they are boxed individually to ensure safe arrival with you. The small round baskets cost £3.40 each for postage as they can be fitted into a smaller parcel and posted via Royal Mail.
Please click on the styles of baskets below, or if you would like further information about our baskets or you belong to a company and would like to enquire about our corporate offers, pelase contact Tregunter via email: tregunter@live.co.uk

A small round gift basket containing 4 mini jars…
£5.50

A medium round gift basket containing 7 jars…
£12.00

A large round gift basket containing 9 jars…
£20.00

Two styles of small oval gift baskets containing 5 or 6 jars…
£9.50

A large oval gift basket containing 8 jars…
£15.25